April 20, 2014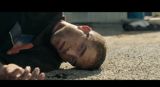 New Robert Pattinson 2nd 'Rover' movie trailer hit the net other day. Recently, A24 studios served up this new,2nd,full movie trailer (below) for their upcoming "The Rover" action/drama flick, which features former Twilight Saga mega star, Robert Pattinson, involved in some heavy,violent action as character ,Rey, who's left for dead by his buddies that have just robbed Guy Pearce's character, Eric.
There's a lot of gunshots seen, getting fired off, along with some fighting action and major drama. Check it out,below. The movie stars: Guy Pearce, Robert Pattinson, Scoot McNairy, Susan Prior, Gillian Jones, Anthony Hayes, and David Field. In the new flick, hardened loner ,Eric (Pearce), becomes the victim of a brutal gang when they steal his car and only remaining possessions.
However, they also leave behind the wounded Rey (Robert Pattinson), forcing him to help track them down. It's due to arrive in theaters sometime this Summer 2014.
Read More..>>