March 25, 2016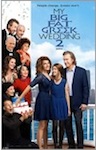 New My Big Fat Greek Wedding 2 movie got mostly negative reviews from top critics. Universal Pictures released their new romance/comedy flick, "My Big Fate Greek Wedding 2," and all the top critics have delivered their opinions of it.
Most of them aren't nice as this movie failed to please most of them, getting just an overall 39 score out of a possible 100 at Metacritic.com.
The movie stars: Andrea Martin, John Corbett, Lainie Kazan, Michael Constantine and Nia Vardalos. We've added comments from a couple of the critics, below.
Richard Roeper at the Chicago Sun-Times, gave it an ok 75 score. He said: "A sequel that's never subtle, rarely surprising — and as rich, syrupy, sweet and satisfying as a tray of homemade baklava."
Tim Cogshell at TheWrap, gave it a 65 grade, claiming: "It's sweet, just like the original movie. It was faint praise then, and it still is."
Tom Russo over at the Boston Globe, gave it a 63 score. He said: "If you appreciated the first movie's sweetness, then you'll likely be charmed enough. Otherwise, you'll find the oof-to-opa! ratio hasn't changed."
Rebecca Keegan from the Los Angeles Times, gave it a 60 grade. He stated: "The sequel is a little like a bear hug from a beloved old relative — the embrace is too tight, the perfume is too strong, but ultimately it still leaves you feeling good inside."
Joe Dziemianowicz from the New York Daily News, gave it a 60 score, saying: "Among the lessons learned: marriages need tending and distance can make people closer. Not earth-shaking, but harmless. Like this sequel."
Read More..>>