September 13, 2016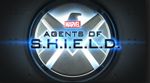 New Agents Of SHIELD season 4,premiere episode 1 official spoilers,synopsis released by ABC. Recently, ABC delivered the new,official synopsis/spoilers for their upcoming "Marvel's Agents Of SHIELD" episode 1 of season 4, and it sounds like things will get really interesting and action-filled as Coulson is thrown back into the field with Mack to track down more inhumans. The rest of the world thinks Coulson is dead, and more! The episode is called, "The Ghost."
In the new episode 1 press release: VENGEANCE COMES TO 'MARVEL'S AGENTS OF S.H.I.E.L.D.,' ON THE SEASON FOUR PREMIERE ON ABC. Press release number 2: In light of the Sokovia Accords, and with Hydra obliterated, S.H.I.E.L.D. has been legitimatized again and will no longer need to operate in the shadows.
Since the world will presume that Coulson is dead, the organization is going to need a new Director to be the face of the organization.
Coulson will find himself back in the role as an agent and teamed with Mack, and together they will get tasked with tracking down and confirming the presence of Enhanced people, aka Inhumans.
Read More..>>