June 10, 2016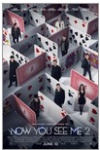 New Now You See Me 2 movie got mixed reviews from top critics. Summit Entertainment released their new action/thriller flick, "Now You See Me 2: The Second Act," into theaters today, June 10th, 2016, and all the top movie critics have given their opinion reviews.
It turns out that it got a pretty mixed bag with an overall 48 score out of a possible 100 score across 26 critic reviews at Metacritic.com.
The movie stars: Daniel Radcliffe, Dave Franco, Jay Chou, Jesse Eisenberg, Lizzy Caplan, Mark Ruffalo, Michael Caine, Morgan Freeman and Woody Harrelson. We've added comments from a couple of the critics, below.
Owen Gleiberman over at Variety, gave it a nice 80 grade, saying: "Now You See Me 2 is more like a giddy piece of cheese from the '80s, a chance to spend two more hours with characters we like, doing variations on the things that made us like them in the first place. The revisit, in this case, is well-earned."
Dave White from TheWrap, gave it an 80 score as well. He said: "Director Jon M. Chu has a lighter touch than "Now You See Me" director Louis Leterrier. The latter's "Transporter" pedigree made sure there was plenty of rugged action, but Chu's résumé boasts "Jem and the Holograms," "G.I. Joe: Retaliation," and more than one film in the "Step Up" franchise. The man knows his cartoons, and that's a good thing."
Read More..>>