December 6, 2013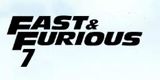 New Fast And Furious 7 movie shut down indefinitely in light of Paul Walker death. According to a recent report from the Los Angeles Times, Universal Pictures has now shut down filming of the new "Fast And Furious 7″ film after the tragic death of one of its main stars, Paul Walker, this past Saturday afternoon, November 30th in Santa Clarita,CA.
They were reportedly halfway done with filming the movie when Paul past away,and were scheduled to start back up this past Monday, but obviously that didn't happen due to the tragic event. Instead, Universal is currently trying to figure out what direction they want to go for the franchise.
There has also been some reports, claiming they might use their option of scrapping the footage they've shot and starting all over from scratch as the studio is ensured for tragic situations like this. Universal Pictures did release an official statement, saying, "We are committed to keeping 'Fast & Furious' fans informed, and we will provide further information to them when we have it.
Right now, all of us at Universal are dedicated to providing support to Paul's immediate family and our extended 'Fast & Furious' family of cast, crew and filmmakers."
Read More..>>