May 17, 2015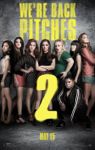 New Pitch Perfect 3 movie is possible,director is thinking about it. Recently, the Collider folks chatted up Pitch Perfect 2 movie director, Elizabeth Banks, about a couple of things she has in the works, and of course, Pitch Perfect was one of them. Particularly, if she was ready to make a 3rd installment.
She pretty much answered them by saying, it's up to the fans' reactions to the 2nd installment, if she'll sit down and try to come up with a story for a 3rd movie. She stated: "I will say, it would be disingenuous to say that no one's talking about a Pitch Perfect 3; the possibility of it.
We are really focused on getting as many butts in seats for this one. If fans embrace it, we are going to seriously think about what the continuing journey would look like, but we don't know what that is yet.
I guess I really love the story of legacy in this one, I knew I wanted the riff-off to look pretty much exactly what the riff-off looks like in this movie and I knew what the finale looked like, so I had some connection points into the story that really jazzed me up, and I don't know what the story of the third one is yet. So I can't say…but I'm excited to delve in and figure it out."
Read More..>>