May 30, 2015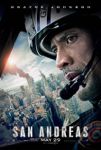 New San Andreas Movie got mixed reviews from top critics. New Line Cinema (Warner Bros) and Village Roadshow Pictures released their new action/thriller film, "San Andreas," into theaters this weekend, and all the top movie critics have turned in their reviews.
It turns out that it was a pretty mixed response across the board with an overall 42 score out of a possible 100 across 38 reviews at Metacritic.com.
The film stars: Dwayne "The Rock" Johnson, Alexandra Daddario, Paul Giamatti, Carla Gugino, Kylie Minogue, Ioan Gruffudd, Archie Panjabi, Hugo Johnstone-Burt, and Art Parkinson. We've added blurbs from a couple of the critics, below.
Mick LsSalle over at the San Francisco Chronicle, gave it a pretty good 75 score, saying: "By turns frightening, exciting and ridiculous, San Andreas is, in the end, more impressive than anything else."
Glenn Kenny over at RogerEbert.com, gave it a 75 grade. He stated: "There are really no surprises here. But the action is bracing, Johnson's performance is solid and, within its extremely narrow parameters, entirely convincing, and Gugino and Daddario are both gritty and attractive. The result is a pretty exemplary popcorn movie."
Alonso Duralde at TheWrap, gave it a 68 score, stating: "There are big, loud entertainments like "Mad Max: Fury Road" that I find myself enjoying even with my critical-thinking cap on, and then there are movies like San Andreas that somehow go straight to my lizard brain; this movie's dumb, and its portrayal of urban devastation borders on the pornographic, but I'd be lying if I said I wasn't entertained."
Chris Nashawaty over at Entertainment Weekly, gave it a 67 grade. He stated: "San Andreas shows that sometimes the fake stuff can get the job done beautifully. I don't want to make any claims that San Andreas is a great film. It's not. But as mindless sensory barrages go, its fakery taps into something real: It shows us just how impotent we all are to control our planet. Unless, of course, you happen to be The Rock."
Read More..>>