May 12, 2016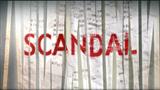 New Scandal season 6 confirmed,new spoilers coming soon. Hey, "Scandal" fans. We're very happy to be able to tell you guys, right now, that your favorite show has indeed been officially renewed by ABC, which means you can definitely expect to see new spoilers, photos, videos and all that great stuff coming in the upcoming weeks and months.
However, there is one little caveat going on with this new season 6 according to TV Line. Apparently, since main star, Kerry Washington, got knocked up again, ABC has decided to cut the season down to just 16 episodes instead of 22, and is contemplating eliminating it from the Fall run.
Then have it start up during the mid-season for an uninterrupted 16 episode run. However, that's not been confirmed yet. This isn't the first time this has happened. Kerry also caused season 3 to get reduced down to just 18 episodes over getting knocked up.
Read More..>>