July 22, 2016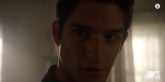 New Teen Wolf season 6 first spoiler trailer clip released by MTV. Yesterday, MTV hit up the big 2016 Comic-Con scene, and dropped this new, first trailer/spoiler clip (below) for their upcoming season 6 of their hit drama, "Teen Wolf," and it looks very intense, heavily dramatic, and interesting as Scott and company face another serious enemy that apparently wipes them out of existence in other people's minds. Major battle scenes take place in an effort to fight back, and more!
In the new clip, Scott and the crew are spotted dealing with a new foe that can apparently erase people from reality! It's revealed that people are disappearing. At one point, Stiles father doesn't seem to recognize who he is! Scott is spotted, very determined to stop this madness from continuing and to get everyone back.
Some extreme fight scenes are shown, along with a lot of great special effects as Scott seeks out people that possess wicked amounts of power to help him out with this new dilemma.
Read More..>>