June 10, 2016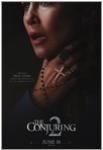 New Conjuring 2 movie got mostly positive reviews from top critics. New Line Cinema released their new horror/thriller flick, "The Conjuring 2," into theaters today, June 10th, 2016, and all the top critics have submitted their reviews.
It turns out that most of them did indeed like it, giving it an overall 64 score out of a possible 100 score across 34 critic reviews at Metacritic.com.
The movie stars: Vera Farmiga, Patrick Wilson, Frances O'Connor, Madison Wolfe, Lauren Esposito, Patrick McAuley, Benjamin Haigh, Maria Doyle Kennedy, Simon Delaney, Franka Potente and Simon McBurney. We've included comments from a few of the critics, below.
Edward Douglas over at New York Daily News, gave it a really nice 90 score, saying: "Wan's secret weapons are clearly Wilson and Farmiga, both such good actors they're able to sell the audience on everything the Warrens experience. The duo also does a great job selling the romantic bond between the Warrens, which helps you fall in love with them as much as you end up falling for the entire Hodgson family."
Read More..>>