August 26, 2016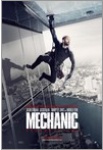 New The Mechanic 2 Resurrection movie got mixed reviews from top critics. Lionsgate released their new hardcore action flick, "The Mechanic 2: Resurrection" into theaters today, August 26th, 2016, and a couple of the critics chimed in with their reviews.
Actually, only about 5 of them did, and among those five, were some pretty mixed opinions, resulting in an overall 49 score out of a possible 100 across 5 critic reviews at Metacritc.com. The movie stars: Jason Statham, Jessica Alba, Michelle Yeoh and Tommy Lee Jones. We've added comments from a couple of the critics, below.
Owen Gleiberman from Variety, gave it an ok 70 score, stating: "In "Mechanic," [Statham's] a mechanic of murder, of escape, of ingenuity, of combat. He's too good (and too badass) to be true, but that's why we like him.
It would be nice to see Statham make a movie one day that's accomplished enough to raise his game. Until that happens, Mechanic: Resurrection will do."
Jesse Hassenger from the A.V. Club, gave it a 67 grade. He said: "Statham and Gansel don't recreate the Transporter magic; those were lovingly ridiculous action movies, while Mechanic: Resurrection is more hastily ridiculous.
Read More..>>