March 16, 2014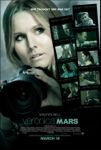 New Veronica Mars 2,sequel or TV show reboot may happen,Producer is ready to do it. According to a new report from The Wrap, Veronica Mars creator/producer, Rob Thomas, hit up Paleyfest in Hollywood,CA this past week, and chatted about the possibilities of this new Veronica Mars movie being the catalyst for even more to come, like possibly a sequel or just a reboot of the whole TV show, all together.
Apparently, it turns out that Amazon or Netflix could be interested in rebooting the TV series with their networks. Rob explained: "The idea of a Netflix or Amazon order excites me to no end. I would love it. I would love to be able to do the R-rated version of 'Veronica Mars.' I would love to tell some darker stories. It's a noir show, Veronica's an adult now. I would certainly listen to that. Hopefully, people would line up for that as well. I've said many times. We also think we could be a very successful low-budget Bond franchise, do one of these movies every two or three years."
Currently, Warner Bros has set a dollar number that this movie needs to hit in order to get a sequel from them, but that's all that Rob would confirm. Hopefully, it'll reach that mark whatever the number is.
Read More..>>