June 10, 2016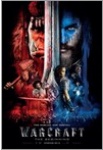 New Warcraft movie got mostly negative reviews from top critics. Universal Pictures released their new action/fantasy flick, "Warcraft," into theaters today, June 10th, 2016, and all the reviews are in from the top movie critics.
Unfortunately for the film, it turns out that most of the critics didn't like it too much, giving it just a 32 score out of a possible 100 score across 38 critic reviews on Metacritic.com.
The movie stars: Ben Foster, Ben Schnetzer, Clancy Brown, Daniel Wu, Dominic Cooper, Paula Patton, Robert Kazinsky, Toby Kebbell and Travis Fimmel. We've added comments from a couple of the critics, below.
Brian Truitt from USA Today, gave it an ok 75 score, saying: " Warcraft wins by not trying to be the second coming of a 10-hour cinematic trip through Mordor with Hobbits and jewelry. Rather, it's a simpler, yet still wholly entertaining tale of magic and larger-than-life soldiers in a battle for survival."
Read More..>>