April 15, 2014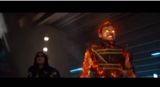 New X Men,Days Of Future Past Opening Battle scene movie clip hit the net. This past Sunday night, 20th Century FOX served up this new movie clip (below) for their upcoming "X-Men: Days Of Future Past" super hero/action film, and I must say, it looks quite excellent, featuring some major action from a number of different mutants. Some of which, include Sunspot in a major fiery fight.
Iceman dons the full ice body while serving up the classic ice slides. Blink does some major teleporting action, and more. Check it out,below. The film stars: Hugh Jackman, Ian McKellen, Patrick Stewart, James McAvoy, Jennifer Lawrence, Michael Fassbender, Nicholas Hoult, Anna Paquin, Halle Berry, Ellen Page, and Shawn Ashmore. In the new movie, the ultimate X-Men ensemble will fight a war for the survival of the species across two time periods.
The beloved characters from the original "X-Men" film trilogy will join forces with their younger selves from "X-Men: First Class," in an epic battle that must change the past to save the future. It's due to show up in theaters on May 23rd, 2014.
Read More..>>