Subscribe to HWH's Free Updates:
Teen Wolf Season 2 Bringing On New Loner Mystery Dude & A Tough Chick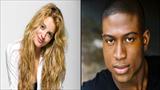 Teen Wolf season 2 bringing on new loner mystery dude & a tough chick. MTV's hit show Teen Wolf is continuing to film season 2 ,and as the new season continues to take shape,so does more spoilers,and we've got at least two more for you here via Zap2it. Apparently,were getting a new tough chick,and some loner dude who has a secret.
First up,character Erica will be arriving at Beacon high school,and she'll be played by actress Gage Golightly. Erica is described as a tough chick who finally catches the eye of some of the boys and some of the wolves when she undergoes a bit of an ugly-duckling-to-swan metamorphosis. Gage's acting resume,includes playing a bully chick in CW's new,hit show Ringer. Right now,her Teen Wolf stint is scheduled for a couple of episodes.
Next up,we have a new dude named Boyd arriving in town,played by actor Sinqua Walls. Boyd is described to be a shy loner at Beacon Hills High School,who reveals there's more to him than meets the eye. Hmm,interesting. Sinqua's acting resume includes a role as Jamarcus Hall on "Friday Night Lights." He's also currently scheduled for a few episodes.
Ok,so that's it for now,but definitely stay because there's lots more coming. Season 2 returns in the summer of 2012 with a whopping 24 new episodes. Follow us on Facebook by Clicking Here.
Did You Enjoy this Post? Subscribe to Hollywood Hills on Facebook, Twitter, & Email
Recent Posts from On The Flix: