Subscribe to HWH's Free Updates:
True Blood Season 5 Released 2nd,New Trailer Spoiler Clip And It's Very Intense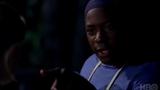 True Blood season 5 released 2nd,new trailer spoiler clip and it's very intense. Recently, HBO dropped this new,2nd,trailer/spoiler clip (below) for their upcoming "True Blood" season 5,and it looks even crazier and more wild than any of the ones we've seen thus far. It also looks like Sookie and Lafayette have a real falling out over Tara getting shot.
In the clip, Lafayette is seen, telling Sookie, she survives alright,but leaves a bunch of dead bodies behind. After that, he followed it up by calling her the angel of death, which seemed pretty damn harsh. It went on to show Sookie making somebody fly clear across a room with her faerie powers.
The "Vampire King Of Mississippi" Russell Edgington is spotted shouting, he loves to suck down human blood,because he's a freaking lunatic. We also see that mean, Vampire Authority council president guy in action,and more. Check it out,below. Season 5 debuts on June 10th,2012. Stay tuned. Follow us on Facebook by Clicking Here. Follow us on Twitter by Clicking Here.
Did You Enjoy this Post? Subscribe to Hollywood Hills on Facebook, Twitter, & Email
Recent Posts from On The Flix: