September 10, 2016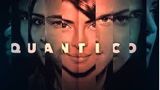 New Quantico season 2,premiere episode 1 official spoilers,synopsis released by ABC. Recently, ABC delivered the new, official synopsis/spoilers for their upcoming "Quantico" premiere episode 1 of season 2, and it sounds quite interesting, very dangerous and really intense as Alex gets sucked into a very life threatening conspiracy that could effect the lives of people around the entire world!
And everyone becomes a suspect in Alex's eyes at this point, and more! The episode is called, "Kudove."
In the new episode 1 press release: ALEX PARRISH FACES AN ALL-NEW MYSTERY ON THE SEASON TWO PREMIERE OF 'QUANTICO.' Press release number 2: Alex will find herself at "The Farm," which is the CIA's mysterious training facility.
As Alex navigates the dark world of espionage, far different and more dangerous than what she's learned before, she is going to get pulled into the center of a deadly conspiracy that not only threatens the lives of this country's citizens, but the lives of countless others across the globe.
Read More..>>