August 1, 2016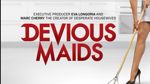 New Devious Maids season 4,finale episode 10 official spoilers,synopsis released by Lifetime. Recently, Lifetime served up the new,official synopsis/spoilers for their upcoming "Devious Maids" episode 10 of season 4, and it sounds like things will get really interesting, extremely dramatic and very intense as major danger gets thrown in Dani and Carmen's direction!
Zoila finds out a major secret that leads Rosie to finding out the truth about Peri's murder! A new friend comes into Genevieve's life. We're also going to see Adrian deliver some news that pushes Evelyn closer to a divorce, and more! The episode is called, "Grime and Punishment."
In the new episode 10 press release: In the fourth-season finale, Zoila is going to uncover a secret that leads Rosie to the truth about Peri's murder. Carmen and Dani will end up finding themselves in danger. Genevieve is going to make a new friend.
Read More..>>