July 29, 2016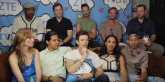 New Flash season 3 spoiler scoops delivered by the cast & TV Line,new clip. Recently, the Flash season 3 cast and producers hit up the big 2016 Comic-Con event in San Diego,CA to serve up new spoiler teasers with TV Line's Michael Ausiello (video below).
It turns out that we're going to see a very new dynamic between Barry and Joe's characters with the new Flashpoint storyline in effect. Barry and Iris move things to a new level, and more.
In the new clip, they said they tried to stick as close to the comic book version of the big Flashpoint storyline as possible, but they did add their own spin to it. The Flashpoint storyline is going to cause the Joe and Barry dynamic to be completely different.
Tom Felton from all those Harry Potter flicks, talked about working with his new Flash cast, and said it was really fun, and that it kind of reminded him of the Harry Potter set.
Read More..>>