August 1, 2016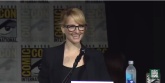 Big Bang Theory season 10 cast revealed new spoilers at Comic Con,new clip. Last weekend, CBS got their Big Bang Theory crew to head out to the huge 2016 Comic-Con event in San Diego,CA to dish out a lot of new spoiler scoopage. The only star on hand was Melissa Rauch aka Bernadette, along with the huge team of executive producers and writers. We've got the video footage (below) for you guys.
In the clip, Melissa Rauch hit up the stage to entertain us all with her excellent comedic talents. Then they talked a lot about what went down in season 9. At one point, they revealed that Bernadette will be preggers in season 10.
They're going to bring Penny's drug dealing brother into the picture. He's just gotten out of prison. And at one point, they revealed who they casts for the role, which is actor, Jack McBrayer.
He got a big applause from the fans when they introduced him.
Read More..>>