December 19, 2015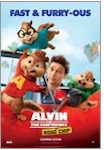 New Alvin And The Chipmunks 4 movie got mostly negative reviews from top critics. 20th Century FOX released their new family/comedy flick, "Alvin and the Chipmunks 4: The Road Chip," into theaters this weekend, and all the top movie critics have revealed their reviews/opinions.
Unfortunately for the film, most of them didn't click with it, giving it an overall 34 score out of a possible 100 across 18 reviews at Metacritic.com.
The movie stars: Jason Lee, Jesica Ahlberg, and Tony Hale. We've added comments from a couple of the critics, below.
Sheila O'Malley at RogerEbert.com, gave it a mediocre 63 score, saying: "The opening party represents what is best about the movie: it's pure mayhem and it's entirely silly."
Read More..>>