July 29, 2016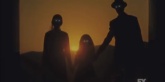 New American Horror Story Season 6 First Spoiler Teaser Clips Released. Recently, FX served up a compilation of new teaser spoiler clips (below) for their upcoming "American Horror Story" season 6, and we've got them all compiled into one convenient video for you to watch.
In the new video, we're shown a couple of very weird clips. One of them features what they're calling the Lullaby. The others are titled: Milli Crossing, Post Op, Descent, What's Cooking and Sunset Stroll. The Sunset Stroll clip features a demonic-looking family with glowing eyes on the tube.
In the Lullaby clip, we hear screams from a baby. In the Milli Crossing clip, we see a wormlike creature crawling over the top of some poor chick's head. In the Post Op clip, some dude is seen, getting his head stapled, and it looks very painful to say the least.
Read More..>>