August 23, 2016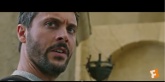 New Ben-Hur 2016 movie clip features dramatic race build up action. Recently, MGM and Paramount Pictures delivered up yet another intense movie clip (below) for their new dramatic/action-filled remake movie, "Ben-Hur," and it's titled, "You Should Have Killed Me." it looks pretty suspenseful as a major build up is going down for the vicious chariot race that's about to take place.
And just before it starts, Judah is seen telling Messala, "You should have killed me." And Messala responds with, "I will." So, it definitely seems like things will get wildly interesting when this scene plays out. Check it out, below.
The film stars: Jack Huston, Toby Kebbell, Toby Kebbell, Morgan Freeman, Rodrigo Santoro, Nazanin Boniadi, Ayelet Zorer and Sofia Black-D'Elia. The official description for the film, reads like this: " Judah Ben-Hur, a prince falsely accused of treason by his adopted brother Messala, an officer in the Roman army.
Read More..>>