June 29, 2016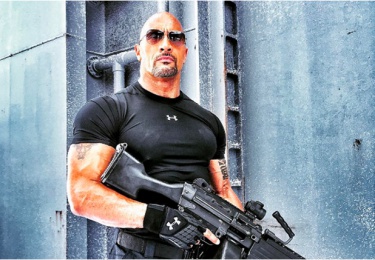 New Fast And Furious 8 movie released new gun toting officer Hobbs promo pIc. Recently, the Universal Pictures folks shot a few promo pics for their upcoming "Fast 8" hardcore action movie while doing some filming in Iceland which served as one of just many of their filming locations.
This particular photo shows the huge Dwayne "The Rock" Johnson in action as officer Luke Hobbs, and he definitely looks like someone you don't want to mess with, sporting a massive machine gun that's ready to pump some folks full of led.
Some of the other locations this movie has been shot at, are: New York, Atlanta, Georgia and Russia. The film currently stars: Vin Diesel, Charlize Theron, Dwayne Johnson, Michelle Rodriguez, Ludacris, Lucas Black, Kurt Russell, Jason Statham, Elsa Pataky, Nathalie Emmanuel, Scott Eastwood, Kristofer Hivju, and Helen Mirren.
Read More..>>