July 15, 2016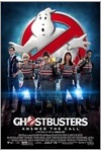 New Ghostbusters 2016 movie got mixed reviews from top critics. Columbia Pictures released their new action/comedy/sci-fi remake flick, "Ghostbusters," into theaters today, July 15th, 2016, and all the reviews are in from the top movie critics.
It turns out that they were pretty mixed on it, giving it an overall 60 score out of a possible 100 across 51 critic reviews at Metacritic.com.
The movie stars: Chris Hemsworth, Kate McKinnon, Kristen Wiig, Leslie Jones and Melissa McCarthy. We've added comments from a couple of the critics, below.
Brian Truitt from USA Today, gave it a 75 score. He stated: "McCarthy and Wiig are solid as the two pals who have to mend fences amid paranormal goings-on, but Jones is great as the quartet's boisterous voice of reason and McKinnon is the film's biggest and quirkiest standout."
Sara Stewart over at the New York Post, gave it a 75 grade, stating: "Overall, though, Paul Feig's ("Spy") reboot of the 1984 classic is a goofy, big-hearted romp."
Read More..>>