July 29, 2016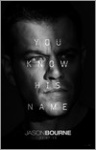 New James Bourne movie got mixed reviews from top critics. Universal Pictures released their new hardcore action flick, "James Bourne," into theaters today, July 29th, 2016, and all the reviews are in from the top movie critics. It got a mixed bag from them with an overall 59 score out of a possible 100 across 47 critic reviews at Metacritic.com.
The movie stars: Alicia Vikander, Julia Stiles, Matt Damon, Riz Ahmed, Tommy Lee Jones and Vincent Cassel. We've added comments from a few of the critics, below.
Kenneth Turan from the Los Angeles Times, gave it a perfect 100 score, saying: "Made with a palpable sense of urgency, this tense, propulsive motion picture is a model of what mainstream entertainment can be like when everything goes right."
Robert Abele over at TheWrap, gave it a 95 grade. He stated: "This fourth entry after a nine-year break for Damon and Greengrass should represent, for those ready and able to separate popcorn mayhem from the grim realities of world headlines, a bruising and exhilarating ride."
Peter Travers from Rolling Stone, gave it an 88 score, stating: "Through it all, Damon keeps us glued to the war going on inside Bourne's head.
Read More..>>