April 16, 2016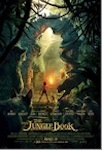 New Jungle Book movie got mostly positive reviews from top critics. Recently, Walt Disney Studios Motion Pictures released their new action,fantasy,adventure flick, "The Jungle Book," into theaters this weekend, and the verdict is in from the top critics about how they felt about it.
It turns out that most of them really liked it, giving it an overall 78 score out of a possible 100 across 42 reviews at Metacritic.com.
The movie stars: Ben Kingsley, Bill Murray, Giancarlo Esposito, Idris Elba, Lupita Nyong'o, Neel Sethi and Scarlett Johansson. We've included comments from a few of the critics, below.
Joe Morgenstern from the Wall Street Journal, gave it a really great 100 score, saying: "The new production, computer-animated except for a living, breathing boy at the center of the action, isn't pretty or sweet but utterly stunning, as well as very funny; all those vaudeville antecedents haven't been forgotten."
Matt Zoller Seitz over at RogerEbert.com, gave it a 100 grade as well. He said: "In every way, this quietly majestic film should be considered a triumph."
Read More..>>