August 22, 2016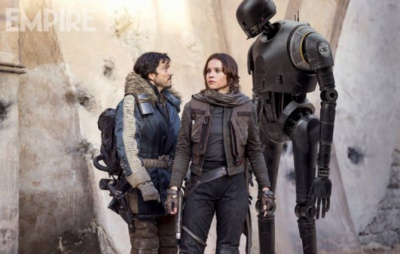 New Rogue One movie pic shows Jyn, Captain Cassian & huge Kaytoo Robot action. Recently, Empire magazine served up this new movie pic for the upcoming Paramount action/sci-fi flick, "Rogue One: A Star Wars Story," and it gives us new looks at characters: Jyn Erso and Captain Cassian Andor in action with huge robot Kaytoo aka K-2SO, which is being voiced by Alan Tudyk.
The scene looks pretty mellow, especially compared to all the intense scenes that are shown in the recently released movie trailer. There's going to be lots of shooting , fighting and wicked explosions as Jyn Erso and company try to retrieve some very serious plans before they can be officially executed to cause major problems.
The movie stars: Felicity Jones, Diego Luna, Ben Mendelsohn, Donnie Yen, Jiang Wen, Forest Whitaker, Mads Mikkelsen, Alan Tudyk and Riz Ahmed.
Read More..>>