July 30, 2016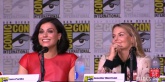 Once Upon A Time season 6 cast delivered lots of new spoilers at Comic Con panel,new clips. Last weekend, the Once Upon A Time season 6 cast, hit up the big 2016 Comic-Con stage in San Diego,CA to deliver their big Q&A panel session, which included a ton of new spoilers. And we've got the new video footage (below) for you guys to enjoy.
In the new clips, stars: Lana Parrilla, Colin O'Donoghue, Jennifer Morrison, Jared Gilmore, Rebecca Mader, Emilie de Ravin and Josh Dallas were all on hand to dish about their new season 6. Emilie revealed that her Belle character sorta likes Rumpel's dark side, and that's why she keeps getting pulled in by him. Even though Regina has been split from her evil Queen self, she will still have her sass about her.
The evil queen on the other hand, is totally without a conscience, so she will be pure evil and a lot of fun. Regina now really wants to be a hero. Since Henry is now the Author, he will feel that he's found his place and is now really apart of the heroes.
Read More..>>