August 11, 2013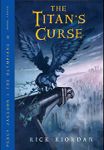 New Percy Jackson 3 sequel movie possibly in the works for 2015 release date. According to a new report from mortalnet.com, 20th Century FOX may indeed be working on a new "Percy Jackson 3" flick, which will be titled, "The Titan's Curse." And the release date would be set for October 23rd, 2015. They might also have plans to make a 4th and 5th one as well.
However, they are quick to say,none of this is officially confirmed by the studio as of yet, because they are doing what they always do, waiting to see how much money this thing is going to make. So far, it only grossed about 5.4 million dollars on its first day. It will definitely have to do a lot better than that to land a 3rd movie confirmation from 20th Century Fox.
The Sea Of Monsters did certainly leave everything open for a 3rd film, so hopefully the numbers will eventually jump high enough to garner a 3rd installment. Wikipedia also states that the 3rd movie is rumored to be in development. Stay tuned.
Read More..>>