December 24, 2014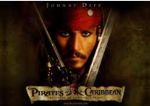 New Pirates Of The Caribbean 5 movie to be a possible reboot,new details. According to a recent report from Comicbookmovie.com and their sources, Orlando Bloom, who starred in the first three "Pirates of The Caribbean" movies, is claiming that the new, 5th installment, might actually be of the whole damn franchise, and that he might be returning as a totally different character!
Orlando explained to the press: "I'm not entirely sure that I'll be back just yet, but there are talks. Basically, they want to reboot the whole franchise, I think, and do something with me and the relationship with my son. I'm of course Davey Jones now, so I'm down the bottom of the ocean. It might be kind of fun to do something where I'm rumbling round the bottom of the ocean, because I won't look anything like me."
In addition to that, it's also reported that five young actresses are currently auditioning to portray the love interest for Thwaites' character. The actresses are: Kaya Scodelario (The Maze Runner), Gabriella Wilde (Carrie), Jenna Thiam (The Returned), Alexandra Dowling (Game of Thrones) and Lucy Boynton (Miss Potter).
Read More..>>