July 31, 2016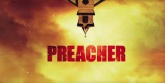 New Preacher season 2 is happening,new spoilers on the way. Hey, "Preacher" fans. We're very happy to be able to tell you, right now, that your favorite show has indeed been greenlit by AMC to go ahead and film a new season 2!
According to Variety, the show will also be back with more episodes! Instead of 10 episodes, you guys are going to see season 2 deliver up a whopping 13 episodes, so get ready for that.
This great news also means that new spoilers, sneak peek clips, cast interviews, photos and all that good stuff is definitely on the way for you guys in the coming weeks and months, so be sure to stay on the lookout for that.
Read More..>>