August 5, 2016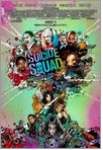 New Suicide Squad 2 movie is happening,might be rated R & more. According to a recent report from idigitaltimes, the new Suicide Squad 2 movie has been greenlit, and Will Smith aka Deadshot and director, David Ayer, are already set to return.
They're reportedly scheduled to start filming the thing in 2017 sometime. There's not many details out for the sequel right now.
I've read some other news articles where David Ayer might consider making the sequel R rated and more aggressive. However, none of that is officially confirmed. We've also got a description of a mid-credit scene that was shown during Suicide Squad.
In the scene, Bruce Wayne is spotted talking to Amanda Waller in her office, getting dossier files on the members of the Justice League in exchange for using his influence to help cover up the damage to the city that the Suicide Squad causes while going after Enchantress.
Read More..>>