August 5, 2016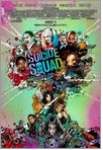 New Suicide Squad movie got mixed reviews from top critics. Warner Bros. Pictures released their new super hero/action flick, "Suicide Squad," into theaters today, August 5th, 2016, and all the reviews are in from the top movie critics.
It turns out that it got some overall mixed responses from them with an overall 41 score out of a possible 100 score across 51 critic reviews at Metacritic.com.
The movie stars: Will Smith, Jay Hernandez, Jared Leto, Adewale Akinnuoye-Agbaje, Viola Davis, Adam Beach, Common , Ike Barinholtz, Joel Kinnaman, Margot Robbie, Jai Courtney, Scott Eastwood, Cara Delevingne and Raymond Olubowale. We've included comments from a few of the critics, below.
Brian Truitt from USA Today, gave it a great 88 score, saying: "Compared to its ilk, Suicide Squad is an excellently quirky, proudly raised middle finger to the staid superhero-movie establishment."
Read More..>>