September 10, 2016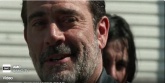 New Walking Dead season 7 intense Negan spoiler promo clip hit the net. Recently, AMC dropped this new spoiler clip (below) for their upcoming "The Walking Dead" season 7, featuring more of evil villain, Negan in action, played by actor Jeffrey Morgan, and he definitely doesn't make it look like Rick and his crew should ever have any hope of escaping his capture.
He tells them that they have to follow his rules and earn what they get, and that whatever they had going for them in their lives, is absolutely over now as he is everywhere! Wow! That's pretty disheartening to say the very least.
In addition to that, the clip also shows more footage of them killing off more walkers, intense car chase action, guns rounds getting fired off and all that great stuff.
Read More..>>