May 27, 2016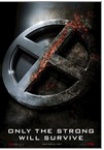 New X Men Apocalypse movie got mixed reviews from top critics. 20th Century FOX released their new super hero/action flick, "X-Men: Apocalypse," into theaters today, May 27th, 2016, and all the top movie critics have turned in their reviews.
It turns out that the movie was good enough to get a mixed reaction out of them with an overall 52 score out of a possible 100 across 45 critic reviews at Metacritic.com.
The movie stars: Evan Peters, James McAvoy, Jennifer Lawrence, Josh Helman, Michael Fassbender, Nicholas Hoult, Oscar Isaac, Rose Byrne and Sophie Turner. We've added comments from a couple of the critics, below.
Edward Douglas from the New York Daily News, gave it an 80 score, saying: "Once again, it's Evan Peters' Quicksilver who steals the movie whenever we see his powers in action, maybe because they've found a unique way to showcase them. There's even a fun but unnecessary tangent involving another popular "X-Men" character."
Read More..>>