February 12, 2016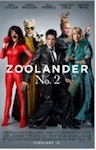 New Zoolander 2 movie got mostly negative reviews from top critics. Paramount Pictures released their new comedy flick, "Zoolander 2," into theaters today, February 12th, 2016, and all the top movie critics have revealed their opinions of it.
Unfortunately, it seems as though most of them found it to be very awful, giving it just an overall 35 score out of a possible 100 across 34 reviews at Metacritic.com.
The movie stars: Ben Stiller, Kristen Wiig, Owen Wilson, Penélope Cruz and Will Ferrell. We've posted comments from a few of the critics, below.
Gersh Kuntzman from the New York Daily News, gave it a very nice 80 score, saying: "Did you like "Zoolander"? Good, then you'll like Zoolander 2."
Mick LaSalle over at the San Francisco Chronicle, gave it a 75 grade. He said: "Sometimes unapologetically stupid and joyously crass, it's often brilliant in its absurdity, one of those rare comedies where the audience sits there dumbstruck, wondering what crazy thing will happen next. It takes really smart people to make a movie this silly."
Read More..>>